In February, we're joining test automation industry leaders at the 2019 Automation Guild Online Conference!
And as Platinum Sponsors, we are very proud to make it even more affordable for you: add coupon name APPLITOOLS when registering — and get 20% off your ticket!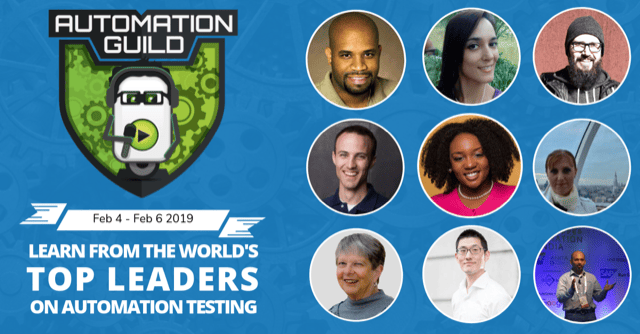 What is the Automation Guild Online Conference? Automation Guild Online Conference (@AutomationGuild, #AutomationGuild), now in its third year, is hosted by Joe Colantonio features three days of live sessions hosted by some of the top minds in test automation. Experts including Lisa Crispin, Corina Pip, Paul Grizzaffi, Kent C. Dodds, Jonathan Lipps and more share best practices in trends during this year's event, taking place February 4-6.
In addition, we are honored to be delivering two talks during the conference.
The first from our own Senior Developer Advocate, Angie Jones. Angie presents "The Devil is in the Detail: Good Gherkin for Complex Automation Frameworks" at 11:30 a.m. PT on Monday, February 4.
On Wednesday, February 6, Applitools CTO Adam Carmi presents "Tips from the trenches: how we build and test AI @ Applitools." During the discussion, Adam shares practical development and testing tips from years of experience building an AI-powered service. He explores the unique challenges involved with AI development and how they may lead to delivery delays or quality issues we should watch out for. He shares practical tips on testing AI-based features, and areas where you can employ AI to be more productive at your job.
We are proud to be Platinum sponsors of the 2019 Automation Guild Conference. Helping the test automation community connect, learn and grow together is important to us and we are honored to be able to help facilitate this through Automation Guild, Test Automation U, and other activities and events throughout the year.
We hope you will join us!
Adam will share a bit more about what we do at Applitools, but we encourage you to learn more about the recent updates to our AI-powered visual UI testing platform. These include Root Cause Analysis to help you diagnose bugs in your front-end application code in seconds. And Cypress and Storybook SDKs that run visual tests instantly, letting you identify visual UI bugs almost as soon as they are introduced.
Additionally, Applitools Eyes offers UI baseline management, team collaboration, the industry's broadest set of integrations with test automation frameworks like Selenium, Appium, and WebdriverIO, and extensive analytics dashboards — eliminating the stress of manual visual testing through its AI features. This helps you ensure that you deliver a visually perfect user experience on every single browser and device.
If you don't get a chance to watch the Automation Guild Conference, reach out or sign up for a free Applitools account.