We are excited to announce the latest update to Applitools Eyes, 10.14. Applitools Eyes 10.14 ensures that users in large and small organizations are able to get their work done – and to that as fast as possible. With this new release, you'll be able to easily onboard new team members, manage your teams' test results, and share them with all team members. We've also implemented several usability and accessibility enhancements to meet your organization's compliance needs. We hope you'll find these enhancements useful!
Assign A Test
The 'Assign test' functionality has been extended in Applitools Eyes 10.14 and improved to allow users to follow up on their assigned tests not only for sessions. Users can now filter by assignee and efficiently manage their tests.
Learn more
Auto-Reject
The "Reject" functionality has been updated so that now, when users reject a specific checkpoint image, Eyes will automatically mark this checkpoint image as rejected on the next test runs as well. This will reduce the amount of time needed for reviewing the test results.
Learn more
Export Batch Results API
You can now export full Batch Results via our API, making it easy to teams to pull down large sets of test results from the Applitools Test Cloud to use in their own internal systems and workflows.
Learn more
New Filter
One of our most requested features, you can now filter test results and batches by who ran the test. A new "Run by" filter makes it easy to deep dive into a particular team members tests quickly.
Onboarding Videos
Users who are new to Applitools Eyes or looking to spruce up their knowledge will benefit from a new video tours section in the learning center. This section includes short video tours for both new and advanced users.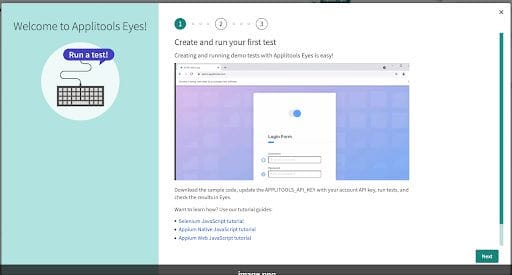 And there is more…
Eyes accessibility improvement – Additional accessibility enhancements were added to the product as part of our ongoing effort to make Eyes as accessible as possible to all users.
Step-by-step onboarding guide – New users in an existing team can benefit from a step-by-step guide focused on their framework needs. The guide helps users with their first test creation and follows up with a "Getting Started" panel containing relevant tutorial links.
An easier provisioning process for dedicated cloud and on-prem systems – The SAML integration now supports automatic deletion of Eyes users when removed from the organization. Contact support to enable this functionality.
How to upgrade
To upgrade your version of Applitools Eyes, just login to the Applitools Test Cloud, and you'll be updated to the latest version 10.14.