What is Tricentis Accelerate? Tricentis Accelerate (@Tricentis, #triacc), is an annual event hosted by our friends at Tricentis that aims to bring the DevOps, software testing, and QA automation community together for two full days of learning and networking. Speaker session topics cover themes around open source, leadership best practices, testing metrics and more. This year's conference will be held at Hilton San Francisco Union Square on May 22-23.
This year's theme is Automation @ the Speed of Change — representing the industry's most modern testing practices and aiming to educate conference goers on how to transform software testing to accelerate their digital transformation.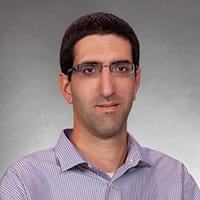 We are proud to have our co-founder and COO, Moshe Milman, take the stage at this prestigious event. On Wednesday, May 22 @ 1:30 p.m. PT he shares "Tackling Test Automation Challenges in the Era of CI/CD." The session takes a deep dive into the top test automation challenges for CI/CD and he shares how successful companies are addressing them. The talk will take place at Breakout – Imperial B room.
We are proud to be Gold Sponsors of Tricentis Accelerate San Francisco 2019! Find us at the expo hall, where we will share the latest end-to-end visual testing and monitoring techniques that support automation and improved visual UI testing through the Application Visual Management (AVM) approach.
One of the latest additions to the product toolkit is Applitools Ultrafast Grid, which helps QA teams create the fastest, easiest path to test automation success. By adding the Ultrafast Grid, Applitools Eyes now includes every component the enterprise needs to quickly succeed in its test automation and CI-CD efforts. Our core test management, auto maintenance and dashboard functionality now allow anyone on the QA team to author, fix, analyze results and maintain tests easily.
And, if you want to learn more from other QA and software testing experts after Tricentis Accelerate 2019, connect with the world-class instructors over at Test Automation University for a free, community-driven collection of educational training courses.
We hope to see you there!
If you don't get a chance to connect with us at Tricentis Accelerate 2019, reach out or sign up for a free Applitools account.
Want to become a test engineering rockstar? What about money and prizes? Sign up for our Applitools Visual AI Rockstar Hackathon. Click here to learn more.