We're honored to be co-authors with Sogeti on their "State of AI applied to Quality Engineering 2021-22" report. In the latest chapter, learn how you can use Visual AI today to release software faster and with fewer bugs.
In the world of software development, there is a very clear trend – greater application complexity and a faster release cadence. This presents a massive (and growing) challenge for Quality Engineering teams, who must keep up with the advancing pace of development. We think about this a lot at Applitools, and we were glad to be able to collaborate with Sogeti on the latest chapter of their landmark "State of AI applied to Quality Engineering 2021-22" report, entitled Shorten release cycles with Visual AI. This chapter is focused around this QE challenge and offers a vision for how Visual AI can help organizations that have not yet adopted it – not far in the future but today.
What is Visual AI
Visual AI is the ability for machine learning and deep learning algorithms to truly mimic a human's cognitive understanding of what is seen. This may seem fantastical, but it's far from science fiction. Our own Visual AI has already been trained on over a billion images, providing 99.9999% accuracy, and leading digital brands are already using it today to accelerate their delivery of innovation.
Leverage Visual AI to Shift Left and Deliver Innovation Faster
Visual AI can be used in a number of ways, and it may be tempting to think of it as a tool that can help you conduct your automated end-to-end tests at the end of development cycles more quickly. Yes, it can do that, but its biggest strength lies elsewhere. Visual AI allows you to shift left and begin to conduct testing "in-sprint" as part of an Agile development cycle.
Testing "in-sprint" means conducting visual validation alongside data validation and gaining complete test coverage of UI changes and visual regressions at every check-in. Bottlenecks are removed and releases are both faster and contain fewer errors, delivering an uncompromised user experience without jeopardizing your brand.
Teams that incorporate automated visual testing throughout their development process simply release faster and higher quality software.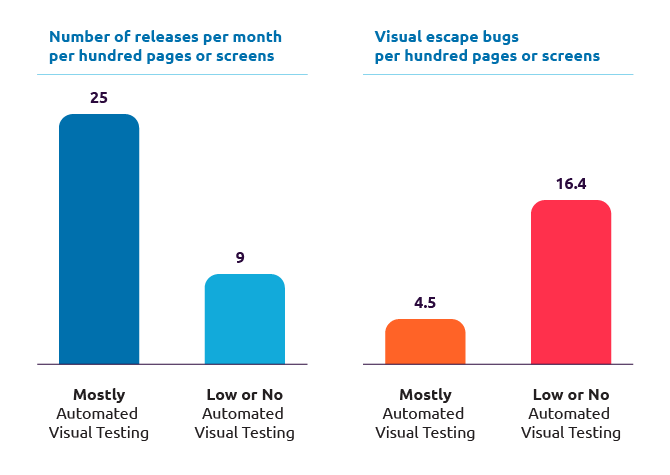 How Can You Use Visual AI Today?
Wondering how you can move your organization or your team over to the left side of the bar charts above? Fortunately, it's not hard to get started, and this chapter from Sogeti is an excellent place to begin. Keep reading to learn more about:
When you should visually test your UI (and why it's important)
How to automate UI validation with Visual AI (including the three biggest challenges and how to overcome them)
Different Visual AI comparison algorithms
How Visual AI significantly reduces test creation and maintenance time while increasing coverage
Streamlining analysis of test results and root cause analysis
Using Visual AI for end-to-end validation
Validation at check-in with Visual AI
How Visual AI is revolutionizing cross browser testing
Deliver Quality Code Faster with Visual AI
Ultimately, what we're all looking for is to be able to deliver quality code faster, even as complexity grows. Keeping up with the growing pace of change can feel daunting when you're relying on traditional test automation that only scales linearly with the resources allocated – AI-powered automation is the only way to scale your team's productivity at the pace today's software development demands.
Applitools' Visual AI integrates into your existing test automation practise and is already being used by the world's leading top companies to greatly accelerate their ability to deliver innovation to their clients, customers and partners, while protecting their brand and ensuring digital initiatives have the right business outcomes. And it's only getting better. Visual AI continues to progress as it advances the industry towards a future of truly Autonomous Testing, when the collaboration between humans and AI will change. Today, we're focused on an AI that can handle repetitive/mundane tasks to free up humans for more creative/complex tasks, but we see a future where Visual AI will be able to handle all testing activities, and the role of humans will shift to training the AI and then reviewing the results.
Check out the full chapter, "Shorten release cycles with Visual AI," below.