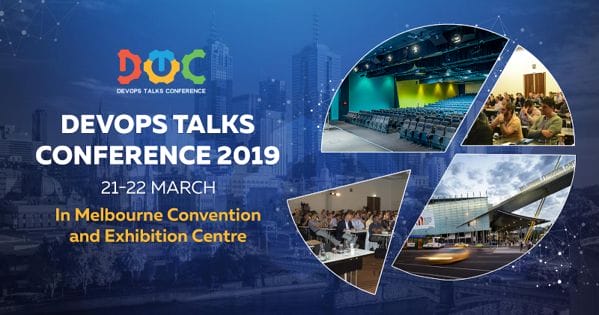 Later this week we will be joining global DevOps leaders at the DevOps Talks Conference (DOTC) in Melbourne, Australia!
What is the DevOps Talks Conference? The DevOps Talks Conference (@DevOpsTalks, #dotc19) brings together DevOps leaders, engineers, and architects who are implementing DevOps principles and practices in startups and leading enterprise companies from around the globe. The conference boasts speakers from companies such as: Google, Microsoft, JFrog and more! This year the event is being held at the Melbourne Convention and Exhibition Centre (MCEC) March 21-22!
In today's competitive IT industry, companies have to deliver products and services to their customers faster than their competition. Agile delivery practices are helping companies collaborate and deliver faster. The maturity of DevOps practices is an essential ingredient to speed up time-to-production for each feature, idea and/or market test. DevOps is the engine of Continuous Integration and Continuous Deployment, but it requires significant changes in culture and personal attitude.
That is why we are so excited to be a Platinum Sponsor of the DevOps Talks Conference 2019 in Melbourne. Where we will not only be sharing the latest visual testing and monitoring techniques that support automation and improved visual UI testing through the Application Visual Management (AVM) approach but contributing to the DevOps world at large and working together to create the changes needed make these practices the new standard.
Applitools Co-founder and COO, Moshe Milman, will be presenting "Fixing Your Automation Challenges in the Era of CI/CD" on March 22 @ 12:05 pm (local time). In his talk, Moshe will cover how Continuous Delivery is now the holy grail of IT organizations, but why many companies are still struggling with the transition into shorter release cycles and faster, more frequent deployments. A key challenge that companies are facing in that transition lies around test automation, and in this talk, he covers these challenges in detail and demonstrates how successful companies are addressing it.
We're looking forward to sharing the latest from our team at Applitools were we have newly released Applitools Root Cause Analysis, helping front-end developers and QA professionals pinpoint the cause of bugs in application code within minutes, eliminating hours from traditional bug diagnosis practices and enabling companies to keep software projects and digital transformation initiatives on track.
We are also excited to share with the community our new AI-powered visual testing integration with Selenium IDE! The integration enables QA and development teams to check responsive software applications using Visual AI across dozens of browsers and devices.
Additionally, Applitools Eyes offers UI baseline management, team collaboration, a wide range of integrations with testing frameworks, and extensive analytics dashboards — eliminating the stress of manual visual testing through its AI features. This helps ensure a visually perfect user experience on every single browser and device.
We hope to see you there — stop by our table in the expo hall to meet the team, and grab your "Visually Perfect" swag.
If you don't get a chance to connect with us at DevOps Talks Conference 2019 in Melbourne, reach out or sign up for a free Applitools account.