Introducing Applitools Execution Cloud: The World's First Self-Healing Test Infrastructure for Open-Source Test Frameworks
We are excited to announce the launch of Applitools Execution Cloud, a revolutionary self-healing, cloud-based testing platform that enables teams to run their existing tests against AI-powered testing infrastructure. This new addition to the Applitools Ultrafast Test platform is designed to provide teams that use open-source frameworks like Selenium or WebDriver.io, with best-in-class AI capabilities, such as self-healing, that are only currently available in proprietary tools.
For years, Applitools Eyes has brought Visual AI to the validation portion of tests, helping engineers reduce assertion code while boosting test coverage. While Eyes has continued to grow as the industry leader in AI validation, we were able to work closely with our customers to help solve problem with the other portion of testing: interaction.
Test flakiness most often occurs during the interaction phase of tests – and more specifically when a test uses a locator as it's anchor for navigation that has changed for some reason. This can be due to dynamic Class or ID generation on certain builds or just some changes to the framework from the dev team. Either situation can wreak havoc on tests running soundly.
Reduce test flakiness with Applitools Execution Cloud
With Execution Cloud, teams can run tests at infinite scale in parallel while quickly healing broken tests as they run, reducing flakiness and execution time. Small changes to the UI, like text, color, or slight layout changes that would normally fail a Selenium test will be able to heal themselves.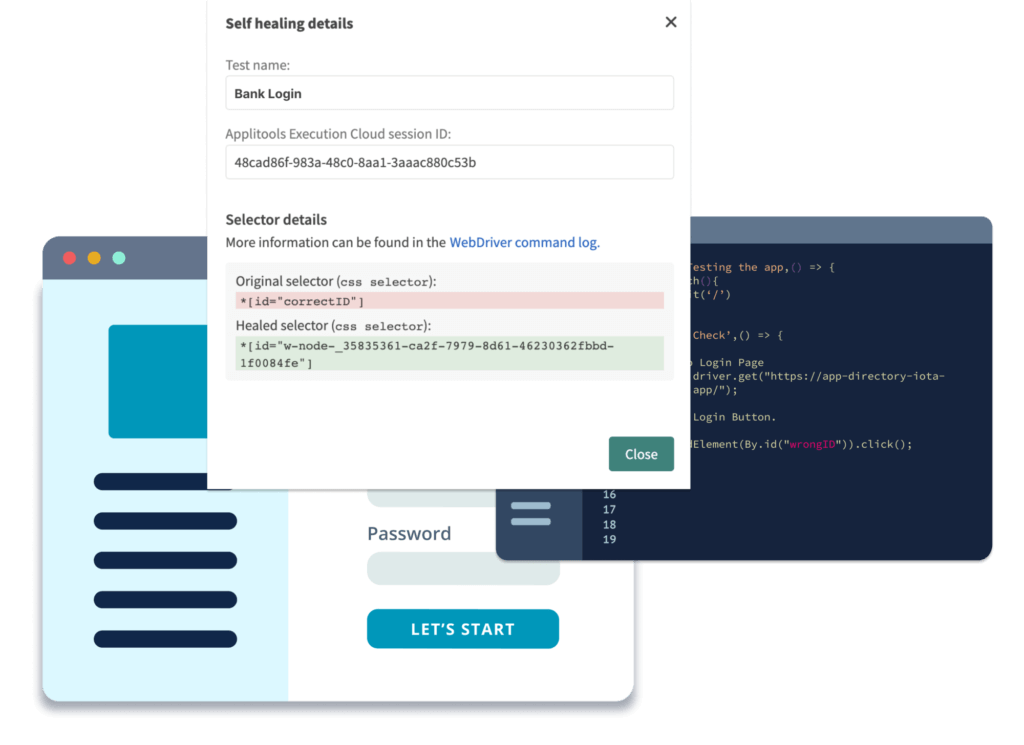 The platform also allows for testing at extreme scale, allowing teams to run tests in the cloud in parallel for faster CI/CD pipelines.
And remember Execution Cloud, teams can easily run both functional and visual tests, as well as any Selenium and WebDriver.io tests using any binding language.
The platform also features implicit waits, which automatically waits for all critical elements to load before running its next process, drastically reducing test flakiness. Furthermore, teams can access test logs, including video, command logs, and console browser logs, to help debug faster.
Unlike its competitors, Execution Cloud is the world's first intelligent test infrastructure for running open-source test frameworks. It is not locked in with a specific test creation tool, and it operates on a pay-as-you-go model that is cost-effective for developers and test engineers. Additionally, Execution Cloud is designed with AI capabilities, which its open-source competitors lack, making it the smart choice for teams that want to accelerate their product delivery speed and improve testing resilience.
Get started today
Overall, Applitools Execution Cloud offers a complete testing solution that helps teams improve their testing process and accelerate their product delivery speed. Run faster, more resilient Selenium tests with the Applitools Self-Healing Execution Cloud. Try it today and see the difference for yourself!
Learn more about Applitools Execution Cloud in our upcoming webinar.