Later this week, we're joining test automation and Selenium experts and practitioners at the Tower Hall Funabori for SeleniumConf Tokyo 2019!
What is SeleniumConf? SeleniumConf (@seleniumconf, #SeConfTokyo) is a software testing conference held twice a year at various places across the globe, and hosted by our friends at the Selenium Project. Selenium Conf is known for featuring the top minds in test automation, sharing the latest updates and best practices on stage, through conference networking opportunities, and hands-on workshops. SeleniumConf Tokyo is taking place in Funabori, Tokyo, Japan, April 18-19.
We are proud to be taking the stage alongside prominent members and users of Selenium, as well as our test automation friends from all corners of the globe. Join us for three expert sessions:
The first session takes place on Thursday, April 18 @ 11:20 a.m. JST and features Dave Haeffner: Selenium Guru and Software Developer at Applitools (where he is the full-time maintainer of Selenium IDE), presenting "How I Learned to Stop Worrying and Love Record and Playback".
Dave will show examples of how Selenium IDE can reliably augment and level-up testing practice regardless of a team's test automation maturity or level of technical experience. He'll also share how he went from a record-and-playback naysayer to a Selenium IDE maintainer.​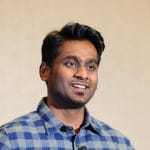 Our next session takes place on Friday, April 19 @ 11:00 a.m. JST and features Applitools Technical Lead and a prominent member of the Selenium Committee: Manoj Kumar, presenting "Testing for an Inclusive Web: Accessibility Testing".
During his talk, Manoj shares ways to manually test for accessibility, and show how to save time with automated accessibility testing. He will present how automated accessibility tests can be added to an existing automation suite using tools — such as Selenium — with no or minimal effort.
Finally, Applitools Senior Developer Advocate and world-renowned Test Automation Thought Leader Angie Jones will present "What's that Smell? Tidying Up Our Test Code" on Friday, April 19 @ 4:10 p.m. JST.
Angie will walk through bad coding practices and demonstrate a cleaner approach by refactoring the test code live on stage.
​You will not want to miss this talk!
We're thrilled to support and sponsor SeleniumConf Tokyo. You can find us at our booth during exhibit hours. We're excited to share the latest end-to-end visual testing and monitoring techniques that support automation and improved visual UI.
We hope you will stop by, say hello to our team, and learn about one of our most recent developments: our contribution to the record-and-playback open source project for regression testing, Selenium IDE. It's the easiest way to get your team to automate their functional and visual UI testing.
If you don't get a chance to connect with us at SelniumConf Tokyo, reach out or sign up for a free Applitools account.
If you want to learn more from Angie and other software testing experts after SeleniumConf Tokyo, we've got your back! Head over to Test Automation University and check out this amazing, community-driven collection of educational training courses. They will help improve your test automation skill set. Best of all, all courses on the website are free and available anytime at your convenience!