Delivering quality user experiences is critical for the success of any software product. By leveraging the power of artificial intelligence (AI), including Visual AI, organizations can streamline and automate UI/UX testing to improve the user experience.
Presented by Applitools and TTC, this webinar shares the latest industry trends discovered from our recent survey, The State of UI/UX Testing, along with Visual AI in action and discusses best practices for incorporating Visual AI into your workflow.
Key Takeaways:
Best practices for assessing the maturity of your quality organization, including test strategy, governance, and how to develop a testing Center of Excellence (CoE)
An overview of the many benefits to be gained by implementing test automation to help reduce cost, increase risk coverage, and improve your organization's speed to market
Explore the benefits of leveraging AI, including improved accuracy and reliability and reduced time and costs associated with manual testing
Gain insights into best practices for integrating Visual AI into existing CD workflows for maximum effectiveness
See real-world examples of Visual AI in action with tips for getting the most out of visual AI for UI/UX testing
Enjoying the Applitools video archive?
We hope you are enjoying our library of exclusive content.
To gain instant access to all premium content in the on-demand library,  fill out the form below. Once the form is submitted, you will not be prompted again.
Trusted by leading frontend teams, Applitools is the world's most intelligent test automation platform. See it in action with a personalized demo.
Session Materials and Additional Resources
Expert Speakers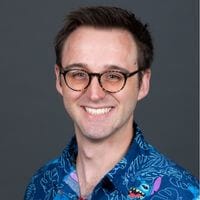 Andrew Knight
The Automation Pands

Andrew "Pandy" Knight is the Automation Panda and a software quality champion who loves to help people build better-quality software. He also serves as Director of Test Automation University, which offers a multitude of free courses from the world's leading instructors.
Chris Rolls
TTC | CEO, AMERICAS

Chris Rolls is the CEO of Americas for TTC where he is responsible for Operations, Consulting, and Sales & Marketing. Chris is an experienced testing practitioner and has been with TTC for over a decade and has held roles including that of Test Automation Consultant and National Manager of Test Engineering.