Next week, we're joining agile and test automation leaders at the Dorint Sanssouci Berlin/Potsdam in Potsdam, Germany at Agile Testing Days 2018!
What is Agile Testing Days? Agile Testing Days (@AgileTD, #AgileTD), now in its 10th year, is an annual conference that brings together global agile testing professionals to discuss the latest trends in testing including DevOps, security, AI, culture and more. This year's conference is taking place in Potsdam, Germany November 11-16.
We are looking forward to taking in a range of opportunities to learn – from breakout sessions and keynotes to workshops and networking events, we can't wait to join this community for an immersive week of sharing and collaborating.
We are also scheduled to deliver three talks.
The first will be delivered by Applitools' Senior Developer Advocate and test automation thought leader, Angie Jones. Angie presents "The Reality of Testing in an Artificial World" on Tuesday, November 13 @ 10:25 a.m. CEST. One of the strongest assets of being a tester is being able to discover and report on the unknown, so, if you want to learn the skills needed test in today's increasingly artificial world and how to to make an impact, don't miss out on this session.
Next is Gil Tayar, Senior Architect, who presents "Not Only Cars! AI, Please Test My App" on Thursday, Nov 15 @ 11:10 am CEST. If you want to learn more about the role of Artificial Intelligence in Testing and Test Automation, where AI can take us in the near future, as well as the 6 levels of AI in automated testing — this talk is for you!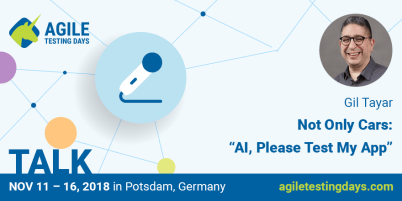 Gil will also present our all-time most favorite talk: "Intro to Visual UI Testing" on Wednesday, November 14 @ 11:55 a.m. CEST. During this session, Gil demonstrates how you can easily avoid front-end bugs and visual regressions, as well as substantially increase coverage, by adding scalable automated visual testing to your existing automated. He will end the talk with a live visual test run by Applitools Eyes!
Agile Testing Days 2018 is an outstanding conference, and we are honored to sponsor and support it. You can find us at our booth during exhibit hours. We're excited to share the latest visual testing and monitoring techniques that support automation and improved visual UI testing through the Application Visual Management (AVM) approach.
We're also looking forward to sharing the latest from Applitools Eyes, our Automated Visual AI Testing Platform. Learn about the recent updates to our AI powered visual UI testing platform, Eyes. The latest features include Cypress and Storybook SDKs that are engineered to run visual tests instantly as developers write code, enabling them to identify visual bugs as soon as they are introduced. The result is more productive engineering teams, delivering higher-quality apps faster than ever before.
Additionally, Applitools Eyes offers UI baseline management, team collaboration, a wide range of integrations with testing frameworks like Selenium, and extensive analytics dashboards — eliminating the stress of manual visual testing through its AI features. This helps ensure a visually perfect user experience on every single browser and device.
We hope to see you there!
If you don't get a chance to connect with us at Agile Testing Days 2018, reach out or sign up for a free Applitools account.